VOICE ACTING FOR VIDEO GAMES, COMMERCIALS, AND MORE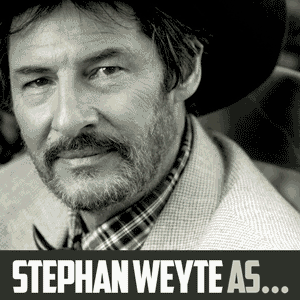 I'm Stephan Weyte. Voice actor. Sometimes misspelled as Stefan or even Stephen. I'm an actor trained in drama at Boston University and the London Academy of Music and Dramatic Art. I've performed in theatre on Broadway, Off Broadway, and in regional theaters all over the country. Now, I make my home in the picturesque northwest. Seattle, to be exact.
You've probably heard my voice in a few places. In commercials, such as spots voiced for Boeing, Lexmark, Petsmart, US West and Microsoft. And in games, such as The Matrix, Pajama Sam, Claw, Freddi Fish, Total Annihilation, Haunted Childhood, Starsiege, Police Quest, and Fire Emblem. One of my more notorious characters is the sarcastic, singing "Caleb" in Blood 1 and 2. I've also done quite a few independent films.
I've garnered somewhat of a reputation as a storyteller. Whether for peppy little cartoon characters, diabolical gaming villains, or smooth and enticing announcers, my voice can tell your story.
Thanks for listening,
Stephan